That's what my athletes say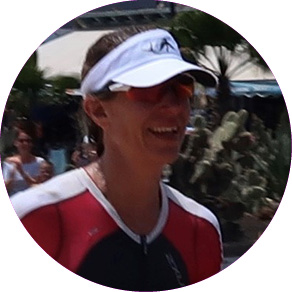 Mother / business economist
2nd place in Ironman Lanzarote 2018 / 20th place in Ironman Hawaii 2018
Basically, the successful participation in the IM Lanzarote was my original goal (after 10 years of "children's break"), which then became the participation in the IM Hawaii.
What I appreciate about training with Michael:
Michael volunteered relatively spontaneously and at short notice to support me in my preparation for the IM Lanzarote. That worked out great. We got the maximum out of it in a short time. Michael was very responsive to my personal situation. Private appointments were accordingly taken into account in the training plan, or the plan was adapted to everyday life. I was also able to contact Michael at any time and always received quick feedback. The cooperation was very pleasant, professional and fun.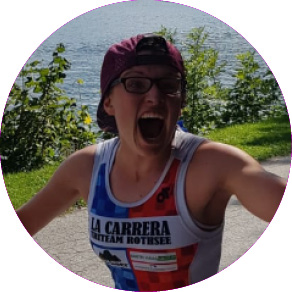 Industrial clerk, logistics department Cycle to work and have been living in the triathlon stronghold of Roth since June 2019. In 2019 I was also best in the district at the Challenge in a time of 10: 21h.
no children | in a sporting relationship
Hawaii Finisher 2015 | Ironman 70.3 WM finisher in Zell am See and Chattanoooga | Multiple athlete of the year Donau ries | Sportswoman of the year 2015 in Roth | Olympic distance victories in triathlon | Hat trick at the Hiro Run Half Marathon | 2x winner of the Seenland Half Marathon | Numerous podium finishes in the AK at Ironman 70.3 competitions and Challenge middle distances | 2nd place AK at the World Championships in Samorin
To keep improving and to finish the Ironman under 10h. The most important thing is health and freedom from injury! Fun, joy and the fire in me are also important to me, my drive is my ambition and incredible motivation.
What I appreciate about training with Michael:
You can always contact Michael and he always has an open ear. The plans are fun and varied.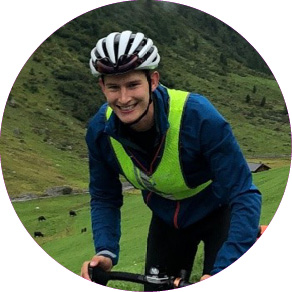 Computer scientist & student
Several top 10 finishes over various distances, Ironman 70.3 races
Qualification for the Ironman 70.3 World Championship
What I appreciate about training with Michael:
Exercise as much as necessary, but not less. The planning and programs are great for tight time budgets and professional athletes. Uncomplicated and spontaneous communication, also for adjustments to the planning if something unexpected happens. Thanks to Michael's experience, I have been able to compete in the best possible form several times on the day of the competition. Triathlon is fun this way!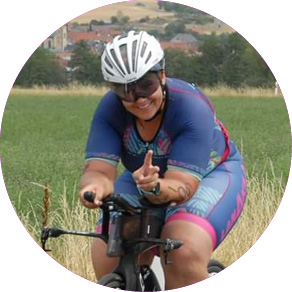 Finished several sprints and three Olympics | Open water panic successfully overcome
2020 finish middle distance and continuously faster | Start in Roth in a few years
What I appreciate about training with Michael:
That you go the way with me without prejudice because you don't have the figure that you expect from triathletes
That you are always available and that you get an immediate answer to your problems
The individual training schedule with regard to appointments, shift work and other everyday appointments
The generally individually tailored weekly training plan that is always there on time
To this day, I haven't had a training plan that was identical to an old plan and that for three years, the sports are certainly the same and it's actually always about triathlon, but definitely no one is absolutely the same
That you want regular feedback on training, which makes you reflect on what you are doing in training
That you always motivate one, even when things are not going so well
That you value it, that you should always have fun with the whole thing, which is time-consuming
That you can plan the competitions for the coming season with you and that you are honest when one or the other distance is still a size too big
It is fantastic to only have to "work through" a plan rather than having to deal with the planning, not to mention that I don't have the perspective of sensible planning anyway
I could now list a thousand things ... I can only say over and over again that for me you are the best coach in the world, nothing better could have happened to me personally. With you I finally have the opportunity to practice the sport of triathlon, to live it, to experience it and to be able to fulfill a dream with it.
A very active son (4 years)
Finisher Gigathlon as single | Finisher of 3 MD with BP 4:48 | Finisher 6 LD with PB 9:48 and 8th place AK.
Get faster, stay healthy, enjoy sports | The next "two-year plan" is the SUB 9:30
What I appreciate about training with Michael:
That a short-term adjustment of the training plan (family / business meeting) is possible without problems and that always constructive and honest feedback from Michael. I especially appreciate his courage to consciously focus on high quality in training instead of pure quantity. This is very valuable and enables me to bring everything under one roof.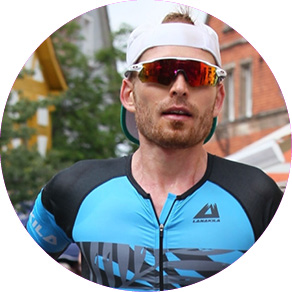 Research assistant in microelectronics
Qualification for the 70.3 World Cup in Nice 2019 | Long distance best time of 9:41 in Roth 2019
Improve myself further on the long distance and get a taste of the Hawaiian qualification in the long term
What I appreciate about training with Michael:
Thanks to Michael's coaching, I was not only able to achieve a clear best time in the long distance, but also saved a lot of training time. The training is extremely goal-oriented and brought me to the starting line of my season highlight in top form. I particularly appreciate the very entertaining and challenging units and I feel very well looked after by Michael.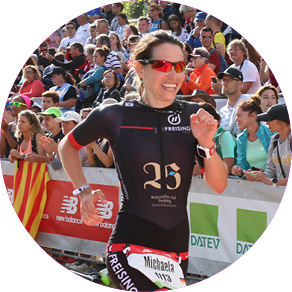 Secondary school teacher (German, sport, IT)
3 completed long distances, promotion to the Bavarian regional league with the Freising league team
keep exercising healthy and active, cross the finish line with a smile and, as an encore, get a little faster bit by bit.
What I appreciate about training with Michael:
Diverse plans in which quality comes before quantity. Quick and competent feedback is always given to inquiries and changes. Michael has a lot of confidence in you (sometimes more than you do yourself), so you are sometimes surprised how exactly the target and time specifications hit the mark.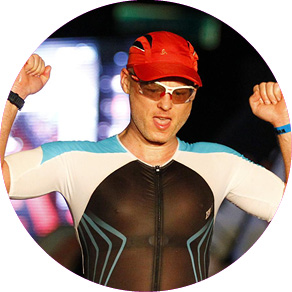 CFO in a medium-sized family timber construction company with 120 employees
IM Copenhagen best time 11.30h | IM 70.3 Lahti best time 5.15h | Engadin Skimarathon (cross-country skiing) best time 1.52h | Berlin inline marathon best time 1.10h | Inline one-eleven 111k best time 3.40h
IM Thun 2020 | Stay healthy and active | Maintaining the joy of triathlon and sport in general
What I appreciate about training with Michael:
Michael has been my coach since 2014
Professional training planning and control
Honest and open communication in both directions
As an athlete, I can concentrate on training. Thanks to Michael, I am convinced that I will be in top form at the start line on day X. No more agonizing questions like: Am I exercising enough? When is it too much? How do I design the form structure? etc.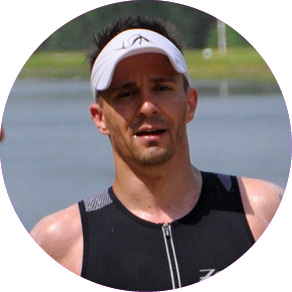 Frankfurt Marathon 2014 in 3:12 | Challenge Roth 2016 in 10:09 | Half marathon Bayreuth 2019 in 1:25
Ironman Hamburg 2020 (then hopefully Sub10) | Just have fun with sports in the future.
What I appreciate about training with Michael:
I have been training with Michael since the end of 2013 and decided to work with him because he is with me from the region and as an age grouper himself knows the difficulty of balancing work and everyday life and a time-consuming sport like triathlon.
Michael's training plans are clearly structured, highly efficient, always varied and individually tailored to my time budget and my entire everyday life. Communication with him is always nice, personal and timely. This makes it easy for me to achieve my sporting goals in addition to my job and everyday life.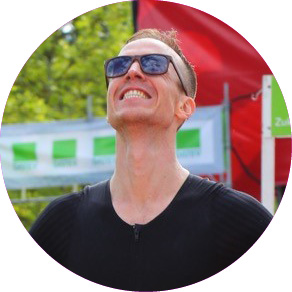 First long distance in Roth 2019 in 9: 54h | 5th in the AK35 at the Leipzig Triathlon 2019 (OD) | injury-free for 4 years
Don't we all dream of Hawaii?
What I appreciate about training with Michael:
One of Michael's great strengths is certainly his enormous wealth of experience; no problem in triathlon seems new to him, no crisis has not already been mastered. Together with his very calming charisma and tailor-made training plans, I lived through my first long-distance year very carefree. I could just step on the gas knowing that someone there knew exactly what was good for me. And the numbers also fit: I have increased my FTP value by 30% since last year, for example.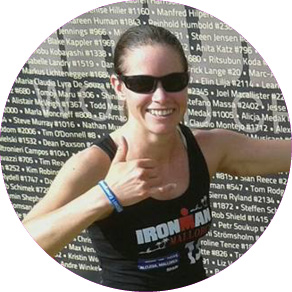 Finish Inferno Triathlon 2015 | 2. AK IM Mallorca 2015 & Hawaii Quali for 2016 | Finish IM World Championship 2016 | 2nd AK Challenge Regensburg 2017
IM Italy Emilia Romagna 2019 | Wörtherseequerung | EM Masters Budapest 2020
What I appreciate about training with Michael:
Michael reacts quickly and flexibly when problems arise, the training is almost always demanding, you never have the feeling of just scrubbing miles and yet there is still time and air for extra sports activities on the weekend.
Banker; US Bank in Zurich
Married | One daughter and one son
Participation in the Championship (2018) | several Ironman and Half Ironman participations with continuously improved results | 3rd place in Cologne 12 (2013).
Strong focus on half-distance, speedwork, ... lots more races, racing!
What I appreciate about training with Michael:
It all started in South Africa in 2014 when I read Michael's box office hit "Triathlon for Professionals". I was and am very fond of philosophy. Time-effective training gives little room for the common "lame excuses" and I was both on fire and on fire. Michael accepted me at the start of the season and it was immediately a new level. Solid analysis, tests and positioning, definition of possible short-term and long-term goals, ... let's go. We went through the days and weeks regularly, looking how to efficiently complete the training blocks. And again and again tests and location determination. The big plus: The training is precisely tailored to your everyday life. Especially when there is a need for a man / woman in the family or at work and there is an acute lack of time, "no trashcan units" but specific time-efficient training. For questions, small or big problems, Michael is at my side with solid and clear advice and navigates me through the season. If you are motivated, want to prepare properly and are in training with Michael, as mentioned above, there are no more excuses. Attack!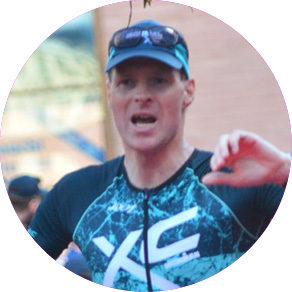 Dipl.-Ing. Metallurgy and industrial engineering
Finisher Powerman Split Duathlon 1998 | IM Europe Roth 1999 | IM Frankfurt 2019 | Transalp Challenge 2006 | Vasa Loppet 2008, various marathons | Hermannslaufen (31 km landscape race Detmold-Bielefeld) | Trias, crosstrias
In the short term I would like to finish properly at IM Hawaii, in the long term I would like to stay active and be able to be physically active for a long time, also like to climb a high mountain, go on a long bike trip, possibly ride another Transalp Challenge and maybe another LD in 10 years approach.
What I appreciate about training with Michael:
Michael gives me the feeling of the correct scope and dose of training and is very flexible in the event of changes to the training plan that are necessary at short notice (e.g. due to injuries or time bottlenecks). Stresses (and these are really such things!) And reliefs are always perfectly coordinated and I don't have to worry about training plans myself. The training is varied and never boring.
24-time Ironman Finnish | Best time at the Ironman Klagenfurt 10:03
Sub 10h at Ironman Hawaii 2019
What I appreciate about training with Michael:
Crossing the finish line with a smile and having fun, Michael can convey that with his variable triathlon training. As an old hand, I, too, was able to learn some new things from him.
I looked forward to his training schedule every week. Because I haven't trained in such a varied way before ... so thumbs up for Michael