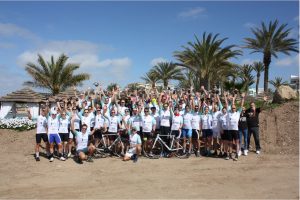 After almost 5 weeks of training camp in Cyprus, I made it back home safely. It was an exciting and eventful time with all of our participants. Together we cycled, ran and swam countless training kilometers, so that everyone got their money's worth. The mood was great again.
In addition to our loyal participants who come back year after year, we were once again able to welcome many new faces. A new hotel & appropriate environment and the Germania Flugpleite prepared us for one or two sleepless nights before the start of the camp, but right on time for the start of training, the entire team was on hand and well prepared to offer our participants a terrific training camp.
I think we succeeded and the best thing to do is to let a participant describe it herself on her experience report in TriTime magazine. For that just open click the link.
I would like to thank Peter for the cooperation and our guides Julia, Viola, Tobi, Alex, Flo, Jorgos, Sebastian and Helmut, without whom the camp would not have been possible.