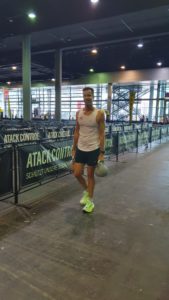 Hello everybody,
yesterday I was at the Hyrox in Frankfurt. On the one hand supporting friends who had a stand there and offering Hyrox Athletic Camps in Cyprus.
Highly recommended, by the way, and I'm usually there for a few days during these periods -> Hyrox Camp Cyprus.
On the other hand, to take part in a Hyrox myself, my second so far. Phew, it was cool but also super exhausting. Next time I have to practice the wall balls beforehand, that was one of the hardest things at the end. Hyrox consists of 8x 1000m runs interrupted by different multi-gyms. Check it out, you get the sore muscles of your life 😉
Happy Sunday and a good start to the week tomorrow!
Michael