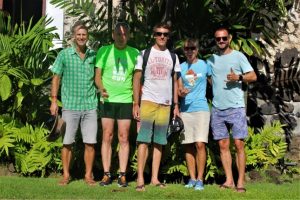 The last weekend was all about Ironman Hawaii, which took place for the 40th time this year. I can still remember when I was at the start line it was the 30th edition. And yet the triathlon is still a very young sport, compared to the classics like running and cycling, which have been inspiring athletes and fans for over 100 years.
Mild conditions allowed a new record time and six of my athletes in the thick of it. The trainer was of course proud like Bolle of each one! As a little thank you, I got a nice picture of my group today. Ok, Uwe was just there for the doping control again (like at home two weeks ago, and as an age group athlete!), But the rest is gathered. The start meant something very special for each of you. For some it was the first time in Kona, others are repeat offenders and a bit more experienced and for some it was the farewell race and the last triathlon ever in their career.
It was a pleasure to prepare you for this day and you have now truly earned your break from the season!
Have a nice Weekend
your Michael