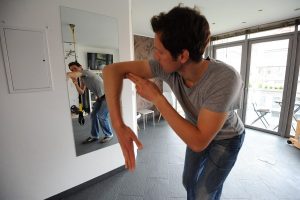 Hello everybody!
At the moment it is difficult or even impossible to go to the usual swimming training. The first brave athletes already dare to go into the local lake. For everyone else, it usually boils down to training at home with the pull rope. The focus should not be on the training time, but on the technique. When swimming in the water it is unfortunately difficult to observe yourself or to permanently correct the pulling pattern. This works much better at home in front of the mirror. Deficits in the approach and push-off phase and also in mobility are quickly visible.
In the beginning, concentrate on slow, but technically clean movements. The main focus should be placed on the correct positioning of the arm while keeping the elbow high. Take enough time and improve your movement with 2-3 weekly pull rope units of 10-15 minutes. It is better to keep them short, but install them regularly. Continuity stands out in scope! When the movements are second nature, the speed of execution increases slowly.
Even if swimming can start again soon, try to keep up these dry exercises. They can be used, for example, as a warm-up before the actual swim, or in combination with strength and athletic training. If you don't have a pull rope, tubes or terabands will work as an alternative.
have a good short week & have a nice holiday tomorrow!
Michael