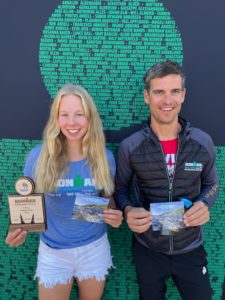 Summer greetings from Nuremberg,
In the last few weeks things have been sporty again! My athlete Manuel reached the top ten at the Ironman Gdynia in Poland with 10th place overall and even led the field from the front until kilometer six. A special experience that he will probably never forget.
Last weekend at the Ironman in Finland, Aline and Stefan did the same. Aline won her age group by a huge margin and Stefan fulfilled his long-cherished Hawaiian dream with 5th place in his age group.
This means that four of my athletes are already at the start of the Ironman World Championships in October and there will probably be a few more in the next two weeks. Let's wait and see how the upcoming races in Copenhagen and Vichy go.
Incidentally, the accommodation situation in Kona is tense for the race week in October, but if you look for Airbnbs just outside of Kona, you will still get reasonable prices. There are also different Facebook groups with requests for roommates for existing accommodations. With a little perseverance, you can still find affordable options.
(Picture above Aline & Stefan – below another article by Manuel)
let's go and sporty greetings
your Michael