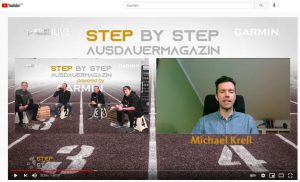 Hello together!
I wish you a good week and let's keep our fingers crossed that the season can pick up speed again from April / May. The incidence values are currently falling sharply. Finally a good sign and at some point it will be over soon.
Last Sunday I attended the premiere of the "Step by Step - Endurance Magazine" and switched on directly via video. Above all, it was about the basic training. We had a big round and the guys from the endurance magazine, especially initiator Sven Steup, built a really cool studio together. I had a lot of fun and if you want, you can take a look. Spoiler: Once there was a brief misunderstanding when I thought I had to give a talk about lactate threshold training, but it was cleared up shortly afterwards 😉 You can find the video here, simply click link. Let them like or subscribe to their channel. The talk will now take place regularly, with many other interesting and illustrious guests.
Briefly on our own behalf: that Cyprus camp we will be on the 13.03. start. Until then, a lot will be done or defused. I will report regularly.
hit it, your Michael